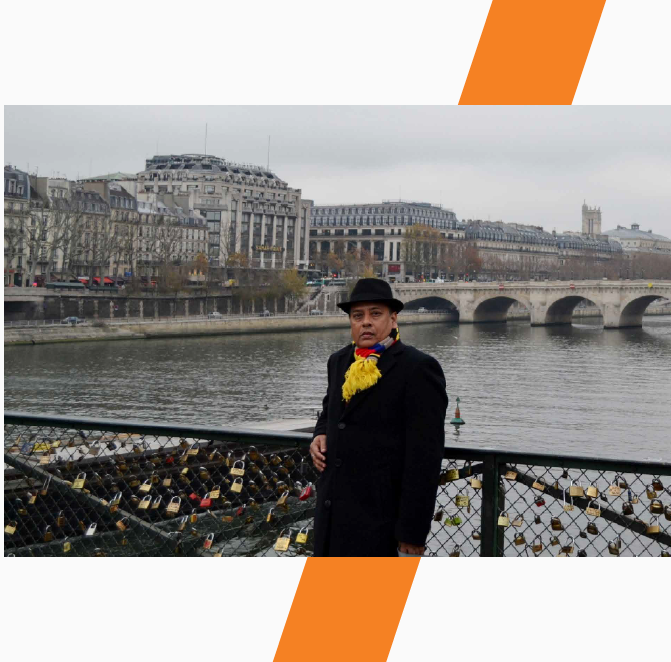 Dipak hails from Kolkata, the city of joy. Having done his schooling from St. Xavier's Collegiate School, Kolkata, which is ranked amongst the best schools in India, he went on to complete his graduation in Physics, followed by his engineering degree in Mechanical and then his specialization in Electronics and Telecom Engineering, and finally a stint in management from XLRI.
Dipak is the first person to be working independently as a professional in a family which has an ancestral legacy of businessmen. He recollects his childhood days when West Bengal was going through a lot of political turbulence in the 1970s, fuelled by labour unions, factory strikes and Naxalite movement. At one point of time, the family was forced to Photo leave Kolkata under life-threatening circumstances and had to remain in hiding for a few months when Dipak was barely 10 years old.
In his early life, his main area of obsession was electronic circuits, and he successfully assembled a transistor radio and other circuitry when he was in class 8. Pursuing his hobby fervently, he used to spend a good amount of time assembling and repairing stereo amplifiers, tape recorders, televisions and guitar amplifiers for his friends and neighbours. He had a room piled up with gadgets, wires and electronic components strewn all over, much to the dislike of his parents.
Dipak was an active member of the students' union in college and was popular for his speeches and social activities. While in college, his other hobbies were playing the guitar and the musical keyboard. His dream was to go abroad and do research in robotics having studied the combination of Mechanical and Electronics engineering. However, his dreams fell short of transforming into reality when he lost his father at the tender age of 26.
Dazzled by the fast life and glamour of the corporate world, he decided to move away from the family businesses and try his mettle in a reputed company named DPS based in Kolkata. His first job was working on the hardware of the IBM Mainframe computer in 1985. He recollects the 64 kb RAM of the computer system which was the size of a deep freezer and the tape drives that were the size of full-sized wardrobes. With thousands of electro-mechanical devices installed in the systems, it used to be a scary affair working with high voltages like 440 volts AC and low voltages like 12 volts DC and 5 volts DC in the same unit.
Dipak then moved to the world of microfilm and its associated computer-controlled equipment. After a thorough training at 3M Singapore, he went on to become an expert in this field and provided solutions and training to a number of public sector undertakings (PSUs) in India and companies in South East Asia. He also completed some very large microfilming projects involving millions of documents and engineering drawings along with their indexing and complex computer-aided retrieval systems. Dipak cherishes in him a passion for digital electronics. He can give impromptu presentations on several topics like digital archives, digitization of books and newspapers, automation workflows, robotic process automation (RPA), etc. However, surprisingly, he says he prefers a wired telephone instrument for a phone call for a long conversation instead of mobiles that are prone to poor signals and call drops.
In the early 1990s, document digitization came into existence and so did CD-writers and CR-ROMs. Dipak remembers setting up the production workflow with the hardware and software pieces to successfully complete a pan-India digitization project involving 6.5 million documents that were put on CD-ROMs for the client. The 1X CD writers in those days used to be very expensive and so were the blank CDs. One had to wait anxiously for 40 minutes after inserting a CD into the writer for it to get successfully written. He fondly remembers the decorative pile up of defective CDs in his workplace.
After document scanning, OCR, SGML and XML tagging were soon to follow and Dipak created one of the first split screen computer programs in the late 1990s for semi-automating the tagging process. He went on to set up and subsequently head the business unit for SPI projects, and in the process grew his team to 550 people.
In the interim, he was blessed with his son Rohit and a few years later, with his daughter Rittika. The birth of his daughter was tragic as she did not cry or breathe when she was born. After 20 minutes, a slight movement was seen and her heart started to beat. She was immediately put in an incubator but the tests revealed that she had had a brain haemorrhage and there was a 2 cc clot in her brain. After a few months of treatment, she appeared to be normal but one day the child specialist declared her to be a spastic child with cerebral palsy. It was very difficult for Dipak and his wife Sunita to accept that their daughter could be spastic and they stopped going to this doctor altogether in disbelief. After trying out several doctors in different cities and several types of treatment for several years, they realized that cerebral palsy was incurable and they learned to come to terms with fate and find happiness in their special child.
After having spent 40 years in Kolkata, Dipak decided to explore better opportunities and left Kolkata and moved to Bangalore, and then to Hyderabad and Chennai and finally decided to settle in Delhi in 2007. Gradually he migrated into the publishing industry having worked with companies like Apex, Aptara and Contentra.
Dipak has been very mobile in his career with respect to his places of work and he moved back to Chennai to work with Lumina Datamatics in 2015 and then joined Newgen in 2019. Eventually, Newgen's work from home policy helped him to relocate back to his home in Delhi.
In 1991, Dipak married Sunita whose culinary proficiency with respect to both Indian and Continental cuisine was widely appreciated amongst his friends, colleagues and relatives. It is no wonder that Dipak and his guests still relish the home-cooked starters, main course and desserts without having to go to a restaurant. He reminisces his initial days in Newgen and the cultural shifts he could feel immediately after joining: the casual dress code, the open seating arrangement and the working atmosphere being some of them. Taking Newgen's cultural shift into his stride, Dipak was able to attract industry talent to form a good technology team and gradually transformed it into a revenue-earning business unit. Every bit of success for him or for his team makes his day better, he says.
With a career spanning over three decades and a half with vast knowledge in electronics and digitization, it is no surprise that Dipak has been a frequent flyer. He had to travel a lot in India and abroad, with the United States being the farthest. He recalls that the highest number of flights in a calendar year was close to a hundred. He fondly remembers having cut cakes during one of his birthdays in 2 different cities and the 3rd one while on a Mumbai - Delhi flight (courtesy the crew of Jet Airways, who used to treat their Platinum customers very well).
He had cherished in him a dream of going abroad to do research on robotics. This he realized by sending his son to the Netherlands for higher studies. Rohit now works as a data scientist in Amsterdam. Along with his office work and family chores, Dipak also takes care of social responsibility having been unanimously nominated as the president of his co-operative housing society. It is no surprise that several friends, colleagues and neighbours go to him pretty often seeking advice on career, children's education, travel, technology, computer hardware and software. Dipak is a good host, loves food and loves to party. He is adept at making cocktails and he usually has guests over the weekends. He recharges by relaxing at home and watching an action movie on a big screen with a home theatre. But one thing he fails to understand is why people are so fanatically obsessed with film stars as they get paid to 'act' as per the directions given to them and are not super heroes in real life as people tend to think. Even the stunts they perform are done by their body doubles.
If money and time weren't an issue he says he would spend time doing research in robotics. Currently he is working on understanding Metaverse and the AR/ VR technology. And, if he could have one superpower, he says it would be to make everyone smile and be happy!