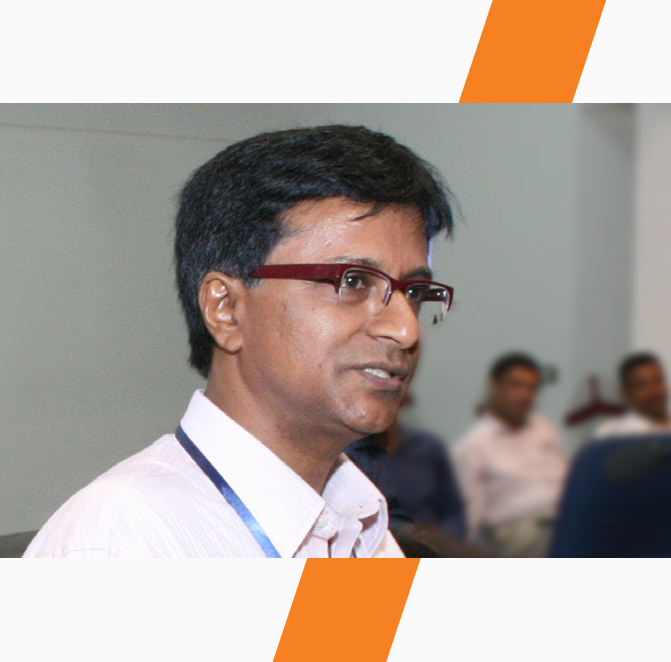 In our ever-growing Newgen family, we have one person with whom we have all touched base at some point . . . any guesses who? Some of us may claim to know him better than others, and yet today we disclose surprising facets about this person that will make you sit up and go, well, well! I didn't know that!
A multi-faceted personality – a keen sportsperson, an avid traveller (long drives and good music highly recommended), a foodie (Thalappakatti biryani anytime, anywhere), an adventure junkie with an artistic bent, all with a heart of gold. A tennis admirer, he has had the rare privilege to have met up with the legend, Rafael Nadal, himself. He has visited and worked closely in all 38 districts of Tamil Nadu, 31 districts of Karnataka, and 14 districts of Kerala.
Any closer to guessing who? Ending the suspense, here's introducing the well-known face of Newgen: Subhash Panicker.
Subhash enjoys his morning walks on the beach followed by a sumptuous breakfast. The partners in this sojourn are his family frequently spotted at Sangeetha and A2B, indulging in a masala dosa, or enjoying an extra helping at Murugan Idli. Did you know that as a family they went for an underwater seal walk on a recent holiday? This and innumerable other adventures have helped Subhash build a treasure trove of memories, extending to over 2 lakh photographs stored in his most precious hard drives.
Subhash believes in maximizing his day and therefore starts early and is prepared with a list of actionables for the day before 8 am. This early bird has many accomplishments under his belt. He is a graduate mentor for IIM Kozhikode and the Cherie Blair Foundation on Women Empowerment. He is the founder director of GenLabs Health Care Services company in Bangalore with 150 employees. He is a founder trustee of Public Issues Forum, a civic NGO in Bangalore, and has resolved over 100 civic issues during 2015–19!
Closer home, Subhash rose to the challenge when the Covid-19 pandemic reared its ugly head and the Support Services team was faced with the unprecedented task of getting everyone up and running in a virtual environment. How they handled and managed the Covid period for Newgen employees is a feat Subhash is most proud of.
Hailing from Chennai, Subhash has a natural affiliation with the sand and the sea. He loves to spend time walking on the beach and be near the sea along the East Coast Road. He is a true connoisseur of arts and literature and some of his favourite haunts are the Margali Masam Isai Festival, Kalakshetra, Theosophical Society, Egmore Museum Theatre, the British Council Library, Nandanam YMCA and the Chepauk Cricket stadium, to name a few.
In the next karaoke event, make sure to pass the mic to Subhash because he can sing a tune too without missing a beat. Be it Kishore Kumar's Phoolon Ke Rang Se in Hindi or the famous Tamil hits Uyire Uyire and Then Pandi Cheemaiyile or even the evergreen Bengali classic Ekla Chalo Re, all executed with equal finesse. One of the things on his bucket list is to watch a recording session of A. R. Rahman. Tamil oratory, poems and music are his top favourite recreational activities. If his life were to be made into a movie today, Subhash would like to be portrayed on screen by either Suriya, Manoj Bajpayee or Fahad Fazil, his favourites for their authenticity to their craft.
Subhash draws inspiration from several icons – Ram Jethmalani, Sachin Tendulkar, A. R. Rahman, former US president Barack Obama, Rafael Nadal, Prime Minister Modi, and psychologist Dr. Jordan Peterson. Subhash is a sports buff and whenever it may be, he would like to watch a cricket match at Lord's, a tennis tournament at Wimbledon, a football game at Wembley and American football at the Rose Bowl. He has followed Nadal's career over the years, admiring all along how he managed various challenges while always staying grounded, always respectful and always mindful.
Subhash has four women in his life – his wife, mother-in-law and two daughters – who have four distinct approaches to life. He learnt (the hard way) and is still learning to step back and not interfere in their thought processes and step in only when they ask. He believes 'Indian society places an undue emphasis on defining marriage as the purpose or objective for a young adult woman. It is an important event and part of life. It may be a necessary but not sufficient aspect for a fulfilling life'. He places great importance on education and financial independence as the most important goals.
Here is a sneak peek into Subhash's list that we accessed exclusively for you. So, look no further for your entertainment recommendations: Secretariat – the tagline reads 'The Impossible Love Story' and it features a race horse; Jana Gana Mana – a legal, crime thriller in Malayalam; War and Peace – an epic and a classic; Plutarch's Parallel Lives – biographies of 48 famous men. Another of his secrets is to unwind after a long day by listening to or reading Dr. Jordan Peterson, listening to music (language no bar), reading The Economist or The Scientist, watching a legal thriller – either a series or a movie.
Subhash is a father but has retained a childlike curiosity to discover things and to keep his spirit unshackled. If he had an opportunity to travel to a fictitious land, he'd pick Wonderland from Alice in Wonderland.
Now that we have revealed the fascinating personality of Subhash a little more, we hope that you are able to catch him one on one soon and have an informative chat about a great many things. Oh, and one last thing before we let you go. This is of great importance to everyone. If you are grappling with the many ups and downs of the share market, Subhash is your go-to guy. In just 30 minutes he can give you a breakdown on how to make reasonable returns on the stock market without losing money! Now, isn't that something!